Two Lessons from the 2014 NBA Finals
I'm a basketball player, now, wisely, resigned to being a fan. I love basketball. I grew up playing most every day from the age of six-eighteen.  In the cold Montana snowy winters I would shovel off my basketball court so I could play. I had the weather beaten, split, bleeding fingers to show for it.
My home town was always the underdog. We were the smallest of the largest schools in Montana. We weren't very good.  I routinely played against opposing centers that were three-eight inches taller than me. It was never a question of who "should" win. It was always a question of "who wanted to win most."  I'm a basketball purist. I love it when a good team beats great individuals. I loved the NBA Finals this year.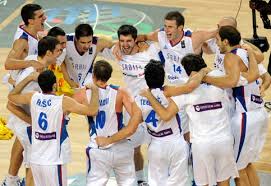 I overheard two phrases in the San Antonio huddle over and over throughout the playoffs. They reinforce lessons we should learn about life:
"Don't let it stick." Coach Pop kept exhorting his team, "Don't let it stick." Of course, he meant the basketball. Don't let it stick in your hands. "Pass, pass, pass." Did you see LeBron James totally "gassed" these playoffs?  He couldn't keep up. No one could keep up. As my Dad always told me, "a pass moves faster than any person can…….you can beat people by passing, not dribbling." If you are reading, Dad, see, I learned the lesson:)
"Give up good to get great."  "Don't let it stick" led to the "extra" pass where players routinely gave up a good shot to pass to a teammate to get a better shot. On another note, the new conventional wisdom for building an NBA Champion has recently been recruiting two-three superstars (great players) and surround them with a bunch of Ok players………let the talented carry the team. San Antonio defied that. They assembled a team of "good" and beat the few "great."
What lessons were reinforced? How about the following:
Humility. If you aren't the most talented person in the world (few of us are), we can achieve so, so much if we are willing to be humble and give vs trying to always make ourselves look good. "Don't let it stick." Build up others, give encouragement, deflect praise…… you may just win at the biggest game, of life!
So many times in life I have settled for what is good, when I could have given up good and teamed with someone and achieved something great.  There are a lot of talented individuals who never achieved much, because they couldn't work with or lift up others.  Every basketball coach around the nation, from child coach to NBA loved the Finals, because it proved once again…………if you have good players who play their roles, you can still beat a few great players.
What great lessons for life, reinforced through the NBA Finals and the San Antonio Spurs. Wasn't it a great championship this year?